Graduation & Senior Information
Graduation & Senior Information


Josten's Cap/Gown Distribution - May 22, 2019
CHS Quad 
Lunch
 Graduation Leis - Deadline Friday, May 31, 2019
Would you like to purchase a Floral Graduation Lei for your 2019 graduate?
Graduation Leis are for sale at CHS as a fundraiser for the class of 2020. 
Click here for photo, details, and order form.
Deadline to order is May 31st.
Senior Awards - All Seniors Need to Apply - Deadline:  This Friday, April 12th!  
During Senior week, one of the activities is the Senior Awards Ceremony. During this ceremony a variety of scholarships and awards are given to our graduating class from community groups. There are awards honoring service, academics, athletics… there are also awards for students going into professions or certain majors or specific schools. The senior award application is available at tinyurl.com/chs2019awards.In order to be eligible for awards, students must complete the application. Students need to be signed into their CHS google account to complete the form. Questions? Contact nicole.belong@coronadousd.net
 Baccalaureate Service - Non-CHS Sponsored - (Optional) - Sunday, June 9
St. Paul's Methodist Church - 4:00 PM - 700 D Ave., Coronado, CA  92118.  The service will be a celebratory, interfaith ceremony. All family and friends are invited to attend.  Full graduation regalia is required of the graduates.  They are to be lined up at 3:30 PM outside the sanctuary for the processional.  There will be a reception with light refreshments following the service in Fellowship Hall.  
Click here for Baccalaureate Letter.
Senior Caps & Gowns

If you have not taken care of ordering your cap and gown for graduation, please make arrangements no later than April 12. You can order online at www.jostens.com, or you can order by phone at 1-800-JOSTENS. If you fail to place your order by April 12, Jostens cannot guarantee an accurate size for graduation. If you have any questions, contact Jostens directly.
If you haven't ordered a cap and/or a gown because your plan is to borrow one and return it after the ceremony, then you can disregard this reminder. Mr. Silverman will have further information about the borrowing process in the coming weeks—see him (rm. 506) if you have any questions, but this will be taken care of once we get closer to graduation; you do NOT need to worry about it right now!
Thank you!
End of Year Senior Activities Calendar!
Click here for exciting end of year senior activities.

Senior Grad Night at Universal Studios - FIRM DEADLINE for payment & forms: Tuesday, April 9th!
Click here for informational flyer and permission forms.
Graduation Webcasts
Click here to view archived Graduation Webcasts
Register to vote:  Click on the logo below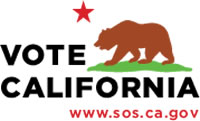 Student & Parent Portal
Sign in to Coronado Unified School District's Student Portal to check your grades and attendance, access important resources, and more!
Login to your account