Graduation & Senior Information
Graduation & Senior Information
Senior Awards - All Seniors Need to Apply - Deadline:  This Friday, April 12th!  
During Senior week, one of the activities is the Senior Awards Ceremony. During this ceremony a variety of scholarships and awards are given to our graduating class from community groups. There are awards honoring service, academics, athletics… there are also awards for students going into professions or certain majors or specific schools. The senior award application is available at tinyurl.com/chs2019awards.In order to be eligible for awards, students must complete the application. Students need to be signed into their CHS google account to complete the form. Questions? Contact nicole.belong@coronadousd.net


Senior Caps & Gowns

If you have not taken care of ordering your cap and gown for graduation, please make arrangements no later than April 12. You can order online at www.jostens.com, or you can order by phone at 1-800-JOSTENS. If you fail to place your order by April 12, Jostens cannot guarantee an accurate size for graduation. If you have any questions, contact Jostens directly.
If you haven't ordered a cap and/or a gown because your plan is to borrow one and return it after the ceremony, then you can disregard this reminder. Mr. Silverman will have further information about the borrowing process in the coming weeks—see him (rm. 506) if you have any questions, but this will be taken care of once we get closer to graduation; you do NOT need to worry about it right now!
Thank you!
 Senior Banners: Deadline May 3rd
The Senior Class is selling banners to show what college, Military service, Gap Year program, Rotary Exchange program, etc. your student is going into in the fall.
We want to include all students in this, not just those bound for a 4 year college.  
This will raise money for the seniors to help offset costs of some of their end of year activities.  The banners will be hung in the 400 building and then given to the students after graduation.  Note that there is a deadline to order by May 3rd.
End of Year Senior Activities Calendar!
Click here for exciting end of year senior activities.

Senior Grad Night at Universal Studios - FIRM DEADLINE for payment & forms: Tuesday, April 9th!
Click here for informational flyer and permission forms.

Graduation Preferred Seating Planning for Families of the Class of 2019 - Deadline:  April 11, 2019 at 3:30 PM
Click here for Reserved Field Graduation Seating Opportunity.  Requests will NOT be accepted after 3:30 PM on April 11, 2019
Click here for Reserved Field Graduation Seating Opportunity - CUSD Employees ONLY.  Requests will NOT be accepted after 3:30 PM on April 11, 2019
State Seal of Biliteracy - 2019 - Deadline:  May 10, 2019 at 3:00 PM
Speaking Another Language… a critical 21st century skill!
Coronado High School Students!
Are you working towards being bilingual/trilingual or already are?
If so, you can be recognized for your efforts upon graduation through an award that will be given at this year's CHS graduation. It is called the California State Seal of Biliteracy (SSB) - a special seal that will be affixed to the diploma of students who meet the criteria and put onto your official transcripts. It is a recognizable honor on resumes and job applications throughout the state.
Here's how you qualify for the State Seal of Biliteracy:
A student graduating from high school must have achieved a high level of literacy and fluency in one or more language(s) in addition to English.
The student must demonstrate:
1) Completion all English language Arts requirements for graduation
with an overall grade point average of 2.0 in those classes.
2) Passing the California Assessment of Student Performance and Progress (CAASPP) for English language arts, or any successor test, administered in grade eleven, at or above the "standard met" achievement level, or at the achievement level determined by the Superintendent for any successor test.
3) Proficiency in one or more languages, other than English, demonstrated through one of the following methods:
A. Passing a foreign language Advanced Placement (AP) examination with a score of 3 or higher, or an International Baccalaureate (IB) examination with a score of 4 or more.
B. Successful completion of a four-year high school course of study in a foreign language, attaining an overall grade point average of 3.0 or higher in that course of study, and demonstrating oral proficiency in the language comparable to that required to pass an AP or IB examination.
C. Passing a district test with a score of proficient or higher (If no AP examination or off the shelf language tests exists and the school district can certify that the test meets the level of an AP exam) demonstrating proficiency in all of the modes of communication (reading, writing, and speaking) that characterize communication in the language.
D. Passing the SAT II foreign language examination with a score of 600 or higher.
4) In addition to the requirements mentioned above, if the primary language of a pupil is other than English, he or she shall demonstrate English proficiency on the English Language Proficiency Assessments for California (ELPAC), or any successor English language proficiency assessment, in transition kindergarten, kindergarten, or any of grades one to twelve, inclusive.
Applications are available from your foreign language teacher,
or the CHS counseling office.
Click here for informational flyer.
Click here for SSB Requirements Checklist.
2019 Seal of Biliteracy Application.
Graduation Webcasts
Click here to view archived Graduation Webcasts
Register to vote:  Click on the logo below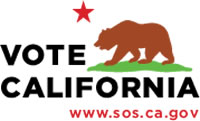 Student & Parent Portal
Sign in to Coronado Unified School District's Student Portal to check your grades and attendance, access important resources, and more!
Login to your account